Off to a new research field — Public Entrepreneurship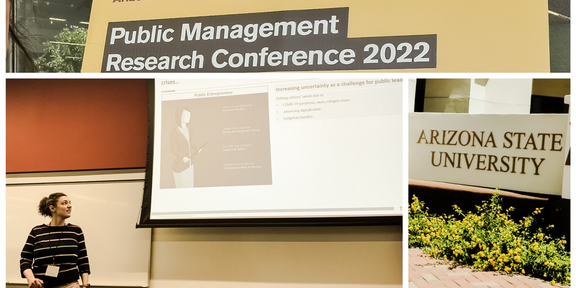 Our team member Katrin Bauer leaped at the chance to present her research in the field of Public Entrepreneurship and participate in the Doctoral Consortium at the 2022 PMRC (Public Management Research Conference) in Phoenix, Arizona.
With the conference presentations and "Public Entrepreneurship", research at TIE Institute entered a new research field. In two sessions, Katrin presented findings on the impact of the cognitive skill of imaginativeness and citizen involvement on public leaders' flexible (effectual) behavior. She received valuable feedback on promoting the existing as well as on future research projects. Moreover, during the sessions and the Doctoral Consortium, she discussed possible future research cooperations with researchers from all over the globe. The PMRC is held by the Public Management Research Association (PMRA) which inter alia publishes the Journal of Public Administration Research and Theory (JPART).