Final Pitch Day of the Ruhr School of Design Thinking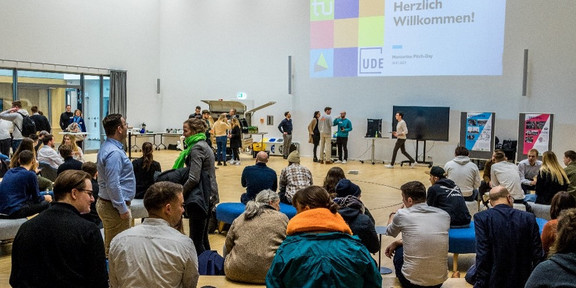 Congratulations on the successful "pitches" to the students of the Design Thinking seminars of the UARuhr (TU Dortmund, Ruhr University Bochum and University Duisburg-Essen). After the Center for Entrepreneurship & Transfer had already invited them to an interim presentation in December (see video), this time the Ruhrschool was guest at the ZESS research center in Bochum. There, more than 70 students presented their prototypes for solving various challenges.
The program was complemented by the two keynote speakers Dr. Karoline Mikus and Sven Maihöfer, who gave very personal insights into their experiences with design thinking and entrepreneurship. Finally, the day ended with pizza and networking. In particular, the three university start-up centers GUIDE - Center for Start-ups and Innopreneurship at the University of Duisburg-Essen, Centrum für Entrepreneurship & Transfer and Worldfactory Start-up Center (WSC) provide support. This means that the mentoring can go into the next round and support the students all the way to founding a company.
Next semester, the Ruhrschool of Design Thinking will again support students with expertise and networking opportunities around design thinking: Soumia El Mard, Esther W., Martin Ebel, Jens Pöppelbuß, Marie-Christin Barton, Florian Krohm, Christian Marx, Dominik Schmelter, Steffen Strese, Tessa Flatten, Dr. Simon Hensellek, Julius de Groot, Manuel Wiesche, Karsten Altenschmidt, Michèle Kuschel, Christian Meske, Stefan Stieglitz, Sina Ramin Sadegh Nadi, Dr. Jennifer Raab,et al.
#MentorInn #RuhrSchool #designthinking #entrepreneurship
© CET ​/​ TU Dortmund

© CET ​/​ TU Dortmund

© CET ​/​ TU Dortmund

© CET ​/​ TU Dortmund

© CET ​/​ TU Dortmund

© CET ​/​ TU Dortmund